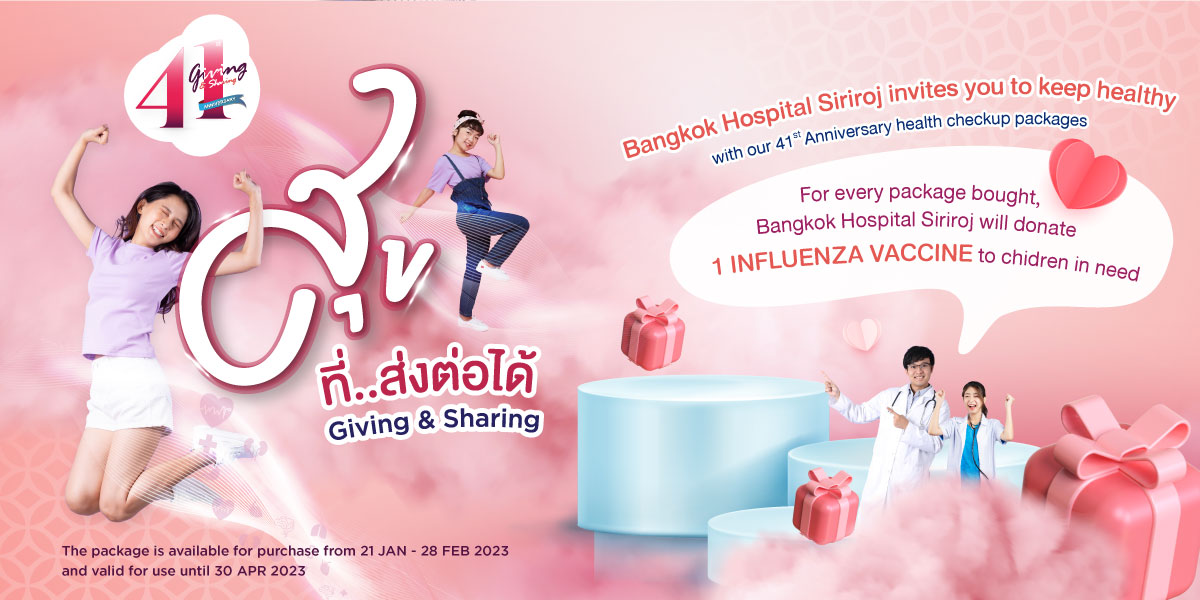 ---
To celebrate Bangkok Hospital Siriroj's 41st anniversary "Giving & Sharing" …
Bangkok Hospital Siriroj invites you to keep healthy with our 41st Anniversary health checkup packages. For every package bought, Bangkok Hospital Siriroj will donate 1 influenza vaccine to chidren in need.
Available for purchase from January 21 – February 28, 2023.
Bangkok Hospital Siriroj has a comprehensive range of medical specialists ready to care for every generation of your family.
Additional programs can be added after purchasing a main checkup program only.
| Package Name | Promotion Price | Normal Price |
| --- | --- | --- |
| Uric Acid | 250 | 500 |
| Electrocardiogram EKG | 300 | 700 |
| HDL | 450 | 600 |
| Calcium Scoring | 2,900 | 4,500 |
| Digital Mammogram and Ultrasound Breast | 1,900 | 4,000 |
| Ultrasound Whole Abdomen | 1,900 | 3,500 |
| Package Name | Promotion Price | Normal Price |
| --- | --- | --- |
| Cool Sculpting 1 cycle | 13,000 | 15,000 |
| Cool Sculpting 2 cycles | 23,000 | 25,000 |
| Venus Legacy 1 Session | 2,500 | 5,000 |
| Venus Legacy 3 Sessions | 5,700 | 15,000 |
| Jetpeel & Dermashock 1 Session | 1,500 | 3,500 |
| Jetpeel & Dermashock 3 Sessions | 3,510 | 8,000 |
| Jetpeel & Dermashock 5 Sessions | 5,000 | 10,000 |
| Ultherapy 120 Shots | 22,900 | 40,000 |
| Ultherapy 400 Shots | 59,000 | 80,000 |
| Breast Augmentation – Smooth Mentor Implant | 90,000 | 115,000 |
| Breast Augmentation – Motiva Silk Surface | 98,000 | 144,000 |
| Breast Augmentation – Motiva Ergonomix 1 | 129,900 | 164,000 |
| Breast Augmentation – Motiva Ergonomix 2 | 200,000 | 250,000 |
| Breast Augmentation – Mentor CPG | 98,000 | 159,000 |
| Vaser Liposuction (First Position) | 79,000 | 90,000 |
| Vaser Liposuction (Next Position) | 35,000 | 55,000 |
| Mastectomy Cub A | 79,000 | 95,000 |
| Mastectomy Cub B, C | 119,000 | 135,000 |
| Mini Tummy Tuck | 99,900 | 130,000 |
| Laser Vagina Tighten and Rejuvenation | 49,000 | 72,000 |
| Meta Glow Vitamin Infusion 5 Sessions | 9,900 | 17,500 |
| Meta Glow Vitamin Infusion 1 Sessions | 2,800 | 3,500 |
| Meta Vital Vitamin Infusion 4 Sessions +1 Free | 6,041 | 10,000 |
| Meta Energy Vitamin Infusion for Executive 1 Session | 4,900 | 6,550 |
| Meta Energy Vitamin Infusion for Executive 5 Session | 23,900 | 32,500 |
| Meta Immune Booster Vitamin Infusion (1 Session) | 3,500 | 4,000 |
| Meta – Balance Male Hormonal Checkup Click Detail | 8,900 | 12,404 |
| Meta – Balance Female Hormonal Checkup Click Detail | 8,900 | 15,354 |
| Weight Management (L) Click Detail | 9,500 | 12,000 |
| Weight Management (XL) Click Detail | 19,000 | 22,000 |
| Meta Detoxify Vitamin Infusion 1 Session | 4,900 | 6,500 |
| Meta Detoxify Vitamin Infusion 5 Sessions | 18,900 | 23,500 |
| Teeth Whitening | 3,900 | 8,500 |
| Home Teeth Whitening | 3,900 | 6,500 |
| Zoom Whitening | 10,000 | 13,000 |
| Dental Exam Dental + Dental X-ray Panoramic (Over 15 years) | 550 | 890 |
Eyes, Ear, Nose and Throat Center
| Package Name | Promotion Price | Normal Price |
| --- | --- | --- |
| Pterygium Excision (Fibrin Glue) | 35,000 | 52,000 |
| Pterygium Excision | 29,000 | 35,000 |
| Phaco | 43,000 | 52,000 |
| Testing Combined 36 Allergens | 3,339 | 4,300 |
| Cataract Screening | 4,500 | 6,500 |
| Package Name | Promotion Price | Normal Price |
| --- | --- | --- |
| HPV Screening | 2,300 | 3,600 |
| Thin Prep | 1,500 | 2,500 |
| HPV Screening + Thin Prep | 2,500 | 4,500 |
| HPV Vaccine 4 Strains(3 Doses) | 8,500 | 11,000 |
| HPV Vaccine 9 Strains(3 Doses) | 21,000 | 25,000 |
| First Antenatal Care | 3,900 | 8,600 |
| Ultrasound 4D | 3,900 | 4,900 |
| Transgender Check-up Click Detail | 4,900 | 13,000 |
| Chromosomal Screening Test | 18,000 | 19,000 |
| Lady Check-up Click Detail | 9,900 | 13,000 |
| Package Name | Promotion Price | Normal Price |
| --- | --- | --- |
| Flu Vaccine (Over 15 years) | 590* | 1,500 |
| Herpes Zoster Vaccine(Over 60 years) | 4,900* | 6,500 |
| Pneumococcal Vaccine (PCV13) | 2,900* | 4,100 |
| Pneumococcal Vaccine (PPSV23) | 1,900* | 2,900 |
| DM Care Click Detail | 1,590 | 4,500 |
| Hypertension Care Click Detail | 2,190 | 4,800 |
| Chest X-Ray and EKG for NCDs | 590 | 1,000 |
| Gastroscopy | 16,000 | 25,000 |
| Colonoscopy with procedural sedation | 20,000 | 35,000 |
| Colonoscopy with TIVA | 37,000 | 55,000 |
* Including doctor fee
| Package Name | Promotion Price | Normal Price |
| --- | --- | --- |
| Influenza Vaccine for kid 6 month – 15 years | 890* | 1,200 |
| Skin Prick Test, 19 Allergens | 2,200* | 2,700 |
| Allergy Blood Test, 36 Allergens | 3,800* | 4,200 |
*Excluding doctor fee
| Package Name | Promotion Price | Normal Price |
| --- | --- | --- |
| Focus Shockwave + Hot Pack (3 Sessions) | 2,700 | 6,000 |
| PMS Therapy (3 Sessions) | 1,800 | 4,500 |
| Acupuncture / Cupping (4 Sessions) | 4,100 | 6,000 |
| Cupping | 411 | 700 |
---
Make your order for health check-up at