The AC is blasting and all of your friends are bundled up, but you suddenly find yourself sweating and gasping for air. It's a familiar scenario to women facing menopause. The doctors from the Women's Center & Fertility Clinic of Bangkok Hospital Siriroj share a few ways to ease the symptoms.
Layer up
When your internal thermostat stops corresponding with the temperature outside, you're going to want to prepare yourself for anything. Lightweight cardigans, jackets, and other layers that can easily be stripped off will help you regulate throughout the day.
Try acupuncture
Although it has never been conclusively proven that acupuncture can help with hot flashes, some women have reported a decrease in both severity and frequency after several sessions. The practitioners at the Siriroj Acupuncture Clinic can customize a treatment plan for you.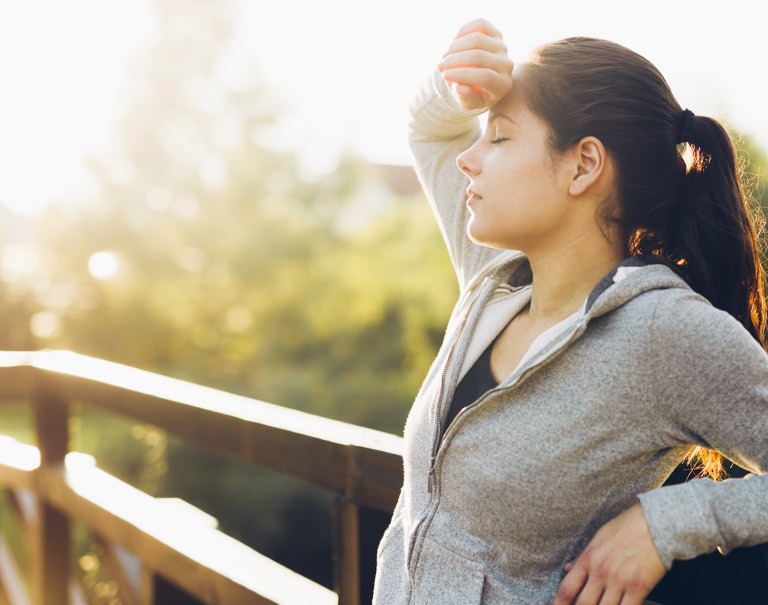 Stop smoking
Cigarettes, cigars, pipes and other forms of tobacco have a detrimental impact on many parts of your body and may exacerbate your hot flashes. If you smoke, this is just one more reason to quit.
Monitor your weight
Maintaining a healthy body weight is important at any age, but arguably even more so at this stage in your life. If you are overweight or obese, losing a few kilos may help with your hot flashes and reduce your risk of other health problems down the road.
Avoid spicy foods
While it avoiding spicy foods altogether in Thailand may be difficult, many women find that they trigger hot flashes. If your symptoms are particularly severe, you may want to cut back on the chiles in your som tum for a little while.

Drink less
Too much alcohol isn't doing your body any favours, especially if your going through menopause. As tempting as it might be to have a second or third glass of wine during this stressful period, try reducing your consumption.
Cut back on the coffee
Some women find that large amounts of caffeine make their hot flashes worse. If you're used to drinking several giant Starbucks cups to make it through the day, consider trying to wean yourself off. Switch your usual cappuccino or chai latte with hydrating herbal teas.
Consider hormone therapy
Estrogen therapy isn't for everyone and can lead to serious medical complications in certain cases, but for some women, it offers incomparable relief in an otherwise unbearable situations. If your menopausal symptoms are particularly severe, make an appointment at Women's Center to discuss with a doctor about whether or not it's right for you.
Try antidepressants
Low doses of venlafaxine, paroxetine, and fluoxetine, which are the active ingredients in common antidepressants have been successfully used to treat hot flashes, although they are generally less effective than hormone therapy.
---