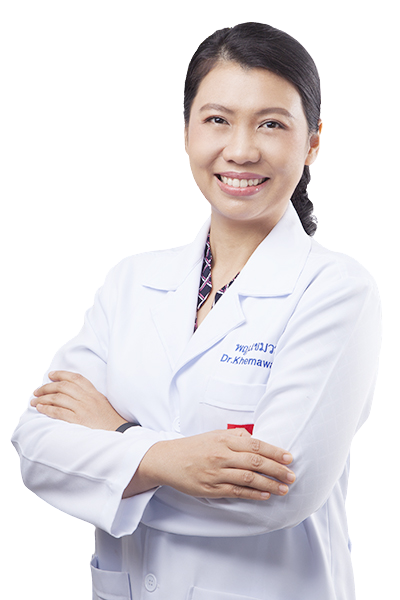 Dr. Khemawan Vettayawaikoon
Dr. Khemawan Vettayawaikoon
Specialty
Ophthalmology
Ophthalmology Cornea & Refractive Surgery
Qualifications
When it comes to eye doctors in Phuket, Dr. Khemawan Vettayawaikoon will always pop up in the mind of both Thai and international patients. As a highly experienced ophthalmologist for cataract refractive surgery, she whips up exceptional and most dedicated care to bring back the bright and shiny vision for a new lease on life for many patients coming from near and far. Other clinical focus includes dry eye disease, Refractive surgery (ICL, LASIK, Femto LASIK and PRK), Meibomian Gland Dysfunction (MGD), Ocular Demodicosis (Demodex Infestation).
As for her educational background, she graduated from the Faculty of Medicine, Siriraj Hospital, Mahidol University, Bangkok, Thailand (1994 -1999), followed by residency of ophthalmology in the Department of Ophthalmology, Rajvithi Hospital, Bangkok (2003 – 2005). In 2006, she rounded it all off with fellowship studies in Cornea and External Disease and Refractive Surgery at the Department of Ophthalmology, King Memorial Chulalongkorn Hospital, Chulalongkorn University, Bangkok.
For more than a decade, Dr. Khemawan has served as Cornea & External Eye Disease and Refractive Surgery Specialist at the Bangkok-Phuket Eye Center, Bangkok Hospital Phuket. She has also been appointed as Head of the Provincial Eye Bank, Thai Red Cross Society, Bangkok Hospital Phuket since 2006. She has reached out to people in need at the same time with her constant participation in the Princess Mother's Medical Volunteer Foundation since 2006. Her major contribution includes consultation and medicine prescription for those in need in Phuket areas as well as surrounding islands.
Such exposure to patients from all walks of life makes her realize that local people have limited access to Thai-language information pertaining to eye care and disease. Hence comes the interactive website: www.eyestesting.com that she has initiated since 2017 for Thai people to access a wealth of information on eye care, common eye diseases and basic vision screening.
Despite her Herculean tasks aforementioned, she has managed to lend academic limelight based on her outstanding flair for optimum intraocular lens selection for each patient. This will lead to excellent clinical outcome and their better quality of life across the board.
Recent achievements as key contributor/speaker include:
August 2019

Basic to Beyond, 3rd Andaman Ophthalmology network 2019 Renaissance Phuket Resort and spa.

July 2019

International expert meeting: the latest technology in Ophthalmology Laser Vitreolysis Dusit Thani Laguna Phuket

June 2019

The lid and related disease. Eyelid treatment Vibhavadi Hospital

May 2019

Insurance Forum Eye disease in digital age Bangkok Hospital Phuket

March 2019

Cataract Day 2019 From theory to practice : change life for the better The new horizon of ocular surface disease management The Sukosol Hotel, Bangkok.
Glaucoma Day 2019 Demodecosis Bangkok Hospital Phuket
Smart Pharmacist Ophthalmic disease and Eye drop Bangkkok Hospital Phuket

December 2018: Workshop LASER for glaucoma and floaters.: Bangkok Phuket Hospital
November 2018:  TRB OTC symposium 2018: "Pitfall of drug in dry eye disease", Eastin Grand Sathorn Hotel, Bangkok
November 2018: Diabetes camp: Diabetic retinopathy, Bangkok Phuket hospital
August 2018: Basic to Beyond, 2nd Andaman Ophthalmology Network Conference, Pullman Arcadia Naithon, Phuket
 May 2018: Public health seminar on the topic "Forever Bright Forever Young:  Dry Eye", Bangkok Hospital Phuket
April 2018: Forum workshop: "How to use FORUM to integrate your practice?", Bangkok Phuket Hospital
 February 2018: "Healthy and Happy Together – Home Visit by Doctor Project", 7th episode, on the topic of eye hygiene and care, Deevana Plaza Phuket Patong
February 2018: "Long life with youthful vision: modern approached to effective treatment of cataract": Bangkok Phuket Hospital
February 2018: TRB Academic Symposium, DEWS II guidelines: Time to apply "Lid hygiene: From Conventional to Effective Treatment", Sheraton Grand Macao Hotel, Macao
January 2018: Pharmacy seminar of eye education: "Exploring Future Ophthalmology Treatment with Drug Evolution –"From Clinical to Practice of Tear Fluid and Mucin Secretagogue", Kataliya Hotel, Chiang Rai, Thailand
September 2017: Maung Thai Wellness day: "Technique for eye care": Bangkok Phuket hospital
June 2016: Basic to Beyond in ophthalmology: Westin Sirey bay resortand spa, Phuket
October 2016: MGD Treatment: Smart with art and science– "Blephasteam: Experience Transfer with Tips & Tricks", Hotel Real Palacios, Lisboa, Portugal
Ophthalmology, Corneal and Refractive Surgery
With years of experience as a prominent ophthalmologist, Dr. Khemawan performs cataract refractive surgery, using cutting-edge technology to restore vision and quality of life for both local and international patients. She also provides specialized consultation and treatment for Dry Eye Disease, Meibomian Gland Dysfunction (MGD), Demodicosis (Demodex Infestation) and Refractive surgery ( LASIK) .
Education and Work Experience
2000 – 2001 Internist at Surat Thani Hospital, Surat Thani, Thailand
2001 – 2002 General Practitioner at Bantakhun Hospital, Surat Thani, Thailand
2002 – 2003 General Practitioner at Patong Hospital, Phuket, Thailand
2006 – present Cornea & External Eye Disease and Refractive Surgery Specialist at Bangkok Hospital Phuket, Thailand
2006 Head of Provincial Eye Bank at Bangkok Hospital Phuket since
Schedule
Monday – Friday 08.30 am – 03.00 pm